Written by Marco Carvajal
2023 Mazda CX-50 Turbo Premium Plus
Test driving the first Mazda CX-50 ever, a completely new SUV added to the Mazda lineup with a bright future, competing in the crossover-SUV growing market.
The fantastic CX-50 is a rugged and capable all-new Mazda crossover SUV that everyone can enjoy.
The model CX-50 Turbo Premium Plus, which I am driving, is at the top of the CX-50 lineup, but out of the 10 trim models, there is a CX-50 for everyone, with a great value pricing range from $27K to $42K.
As expected with Mazda vehicles, the CX-50 offers superior driving dynamics and beautiful design, while allowing drivers to venture further into the great outdoors and across almost any terrain.
The exterior of the CX-50 has a modern but rugged look with pronounced fenders and a slimmer grille. The interior provides comfort for all passengers and cargo space is thoughtfully designed to help support and allow for outdoor activities. Vehicle height and length are ideal for easily loading and securing common outdoor gear.
The 2023 Mazda CX-50 is similar to the existing Mazda model CX-5, two similar SUVs from the same auto-maker competing in the same class.
The CX-50 offers better off-roading and towing capabilities compared to the CX-5 and many other rival SUVs with 3,500 pounds of towing capacity.
This SUV seems to be specially designed for outdoor adventures.
The new CX-50 is the first Mazda vehicle built at the new Mazda Toyota Manufacturing (MTM) plant in Huntsville, Alabama.
"This is an exciting day for both MTM team members and MNAO employees to celebrate the first CX-50 to roll off the Discovery Line at MTM," said Jeff Guyton. "The production of the CX-50 here signifies the importance of the North American market to Mazda and our commitment to investing in the U.S."
Power Train and Performance
The CX-50 has reasonable power and it is equipped as standard with the latest i-Activ All-Wheel Drive (AWD) technology and the new Mazda Intelligent Drive Select, or Mi-Drive.
Drive modes can be selected with the Mi-Drive switch and will help you drive naturally in a wide variety of conditions, such as in exciting off-road terrain, or providing reliable towing capabilities when needed.
The CX-50 is available with Mazda's efficient powertrains, Skyactiv-G 2.5 naturally aspirated engine, or Skyactiv-G 2.5 Turbo engine. The CX-50 includes a six-speed automatic transmission.
All-wheel drive is standard on all CX-50 models
The base engine 2.5-liter four-cylinder engine produces 187 horsepower and 186 pound-feet of torque.
The CX-50 Turbo models have a turbocharged engine that generates 256 horsepower and 320 pound-feet of torque.
The upgraded turbo engine is powerful and helps make the CX-50 one of the fastest vehicles in its class. It is fun to drive around corners thanks to snappy handling and good steering. Ride quality is quiet and compliant for a smooth ride over imperfect pavement.
Pricing for the 2023 Mazda CX-50
The top-of-the-line CX-50 Turbo Premium Plus that I am test driving is priced at $42,300, this is a good price for the best and highest-level CX-50 trim model you can buy.  The base model, CX-50 S, has a low price starting at $27K.
There is a CX-50 for every budget from $27K to $42K, you have 10 models to select.
CX-50 2.5 S $27,550
CX-50 2.5 S Select $28,950
CX-50 2.5 S Preferred $30,250
CX-50 2.5 S Preferred Plus $32,690
CX-50 2.5 S Premium $35,150
CX-50 2.5 S Premium Plus $37,150
CX-50 2.5 Turbo $37,150
CX-50 2.5 Turbo $39,950
CX-50 2.5 Turbo Premium $40,300
CX-50 2.5 Turbo Premium Plus $42,300
Interior Style
The CX-50 luxury interior goes beyond expectations with a great design and good space distribution. The interior design is based on the driver.
The interior of the first-ever CX-50 is well crafted with good quality materials that feel premium and it features a driver-focused design, beautiful and functional.
To enhance the CX-50, it includes Mazda's first-ever panoramic moonroof that makes you feel like driving on a convertible.
Cargo space is large and designed for outdoor activities
Exterior Style
The exterior of the CX-50 has a modern but rugged look with pronounced fenders and a slimmer grille.
This SUV is well designed with ideal height and length for easily loading and securing common outdoor equipment.   Heavy-duty roof rails and reinforced B-pillars and door jambs are ideal for carrying equipment on the roof.
This new Mazda SUV is very attractive and looks premium, luxury, and expensive.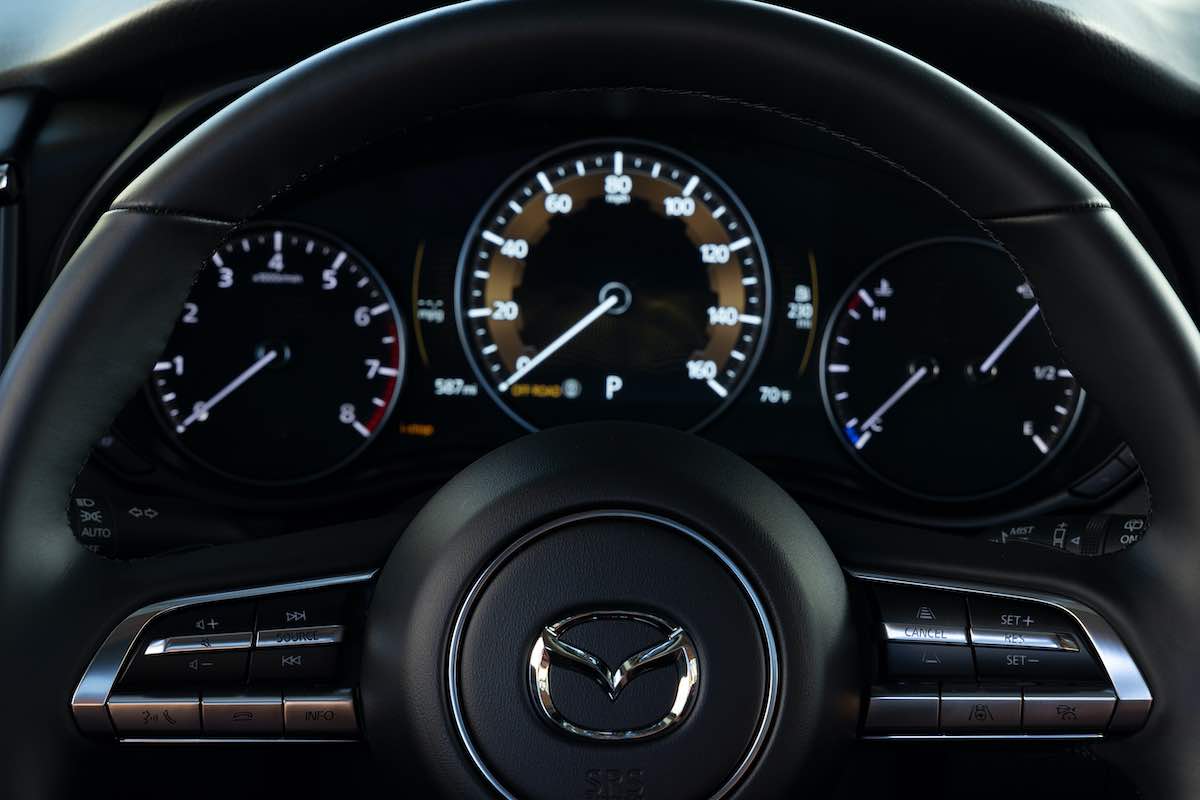 Safety System
Safety features for the new CX-50 include antilock disc brakes, traction control, active front head restraints, a rearview camera, front side airbags, and side curtain airbags. A surround view monitor, front and rear parking sensors, reverse automatic braking, blind spot intervention, and traffic sign reader.
The CX-50 gets driver-assist features like forward collision warning with automatic braking and lane-keeping assist.
The post First Ever Mazda CX-50 is Turbo and Premium but Costs Less than $45K appeared first on AutomotorPro.com.